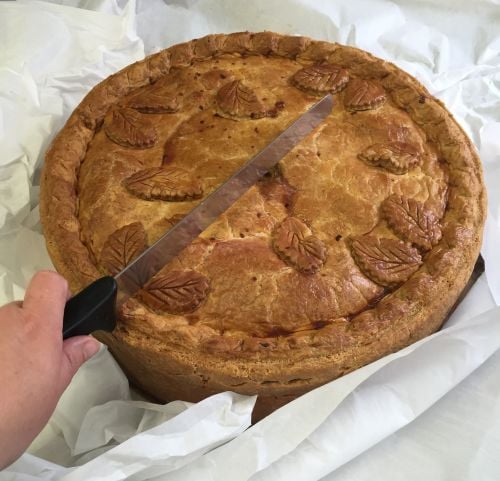 Celebration Pork Pie
A choice of sizes and fillings, personalised with your message, perfect for any special occasion as an alternative to cake.
A personalised giant pork pie, perfect for parties, birthdays, retirements, or any special occasion!
Choose from three sizes , and a variety of fillings/toppings or just stick with our traditional recipe, and let us know your personalised message to be baked in pastry letters on top of the pie. A really great alternative to those that prefer a little savoury over sweet.
PLEASE GIVE AT LEAST 7 DAYS NOTICE FOR THIS PRODUCT
The three sizes are:
23cm diameter - will feed 25 - 30 people
31cm diameter - will feed 40 - 50 people
37cm diameter - will feed up to 75+ people
You can choose to have a traditional pork pie filling, our diamond pork pie filling (with chicken breast and pate), gala (pork and egg), or fruit topped (apple, apricot or cranberry - not available with personalisation).
For personalisation, please let us know your message in the comments section of checkout or send us an email when you have ordered.