About Sauls of Spratton Ltd
Sauls of Spratton Ltd have been run by the Sauls family since 1926 and have provided meats of outstanding quality in a traditional way from our shop in the village of Spratton in Northamptonshire.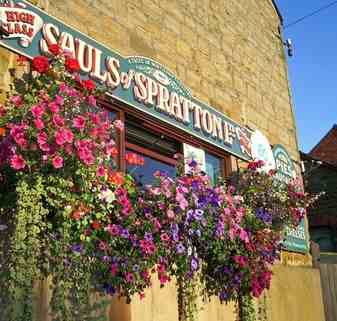 Nowadays we make all our own sausages, pork pies, meat pies, pâtés and potted beef, sausage rolls, cornish pasties, and ready meals. We use only the best and freshest ingredients and follow our traditional family recipes to produce the best food that we can.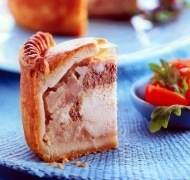 The hard work that goes into creating our products has won us many awards including National Barbecue Champions, the Smithfield Award for Excellence and Innovation, National Diamond Award for our Diamond Pie and the Confrerie des Chevaliers Du Goute-Bourdin for our black pudding. In 2005 we were proud to be awarded the Meat and Poultry News' National Retailer of the Year.
W
e have been selling delicious pork rolls at the Northampton Saints Rugby Club for over a decade. We've had plenty of time to perfect our pig roasts. The tender juicy pork falls apart in your mouth and when served with our stuffing made to a secret family recipe and our homemade bread, crackling and apple sauce, the results are simply mouthwatering. We now have a range of catering trailers and vintage vans and airstreams cater prestigious events across the country, from rugby matches at Twickenham, to Formula 1 at Silverstone, RHS Flower shows at Chelsea and Hampton Court, Crufts, country shows, music festivals and everything in between. We serve so much more than just pork rolls too from our sausges, burgers, homemade pies and chicken dishes to any combination of carvery meats you can think of.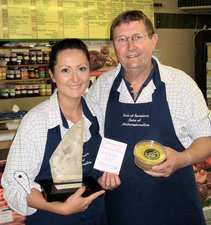 In 2009 we were proud to announce that our potted beef won the county's Best Local Product in the Northamptonshire Food and Drink awards organised by Northamptonshire Enterprise Limited. It was the first time these awards have been held and judging by a panel of experts including Saints prop Euan Murray was held at the Holdenby House Food Fair. The winning trophy was presented to Chris and his daughter Emma by Chef Sophie Grigson. The following year, we were nominated for the Local Food Hero award and in 2011 we won runner up for Best Product for our Diamond Pie. Since then we have also won for our homecured bacon and have been shortlisted several times for various pies and sausages.