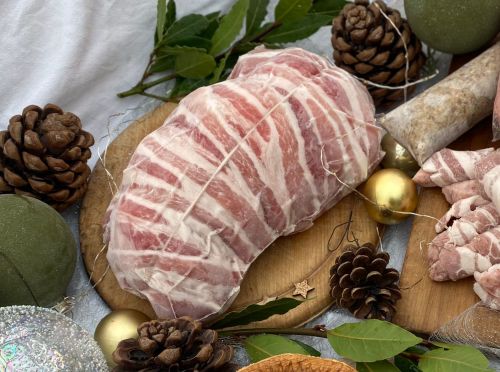 Hand rolled turkey breast topped with dry cured streaky bacon
Spectacular table centre for Christmas day, easy to carve, try it served with a choice of our handmade sausagemeat stuffing on the side.
A spectacular Christmas dinner alternative to a whole bird. Perfect if you're feeding fewer people...or if you have a small oven! Deliciously lean boneless British turkey breast, expertly wrapped in bacon to keep it moist and hand rolled and tied by our butcher.
We have a range of homemade sausagemeat stuffings you can buy to serve alongside your turkey breast from sage and onion stuffing, apricot stuffing, chestnut stuffing or cranberry and orange stuffing, all based around our homemade sausagemeat.
Here's a guide to sizes :
2.5 - 2.9kg will feed 6-8 people

3 - 3.4kg will feed 8-10 people
3.5 - 4kg will feed 10-12 people

4 - 4.5kg will feed 12-14 people