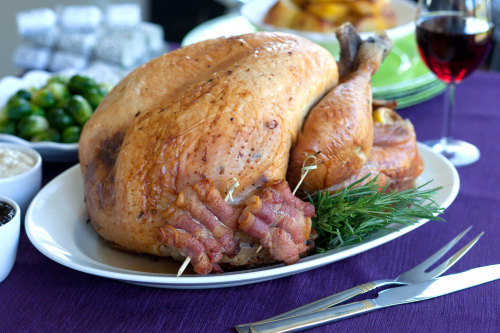 Free range bronze turkey
Award winning free range bronze turkey - your ultimate Christmas essential!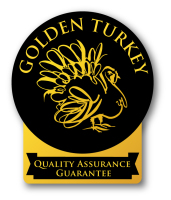 The bronze turkey is a more traditional, slower growing breed of turkey, and will typically have some darker feathers and a more intense flavour than the white turkey.
Our turkeys come from a family farm run by the Howe family for 40 years.They have always worked with a simple ethos: to produce the very best turkey possible. They raise slow growing, tradtional breeds that are free to roam the grassy paddocks of their Kent farm from 10 weeks of age. The birds are fed a cereal based diet free from additives and growth enhancers so they reach maturity naturally to give a delicious succulent flavour.
This size guide gives an indication of how many people your turkey will feed but this obviously depends on appetite and whether you want any for leftovers.
Prices for each bird vary and we will try to get as close as possible - we'll never charge you more but if your bird is less than you've paid, we'll refund you the difference.
10lb-12lb/4.5kg-5.5kg - approx 8-10 people (£63 - £77)
12lb-14lb/5.5kg -6.25kg - approx 10-12 people (£77 - £87)
14lb-16lb/6.25-7.25kg - approx 12 - 14 people (£87 - £101)
16lb-18lb/7.25kg-8.1kg - approx 14 - 16 people (£101 - £113)
If you need a bigger turkey, please give us a ring at the shop and we may well be able to help.